Reason #1 – 100% Dedication to Motorcycle Accident Cases
New Jersey motorcycle attorney Lee Gaber has been actively handling serious motorcycle accident cases throughout New Jersey on a regular basis since 1991.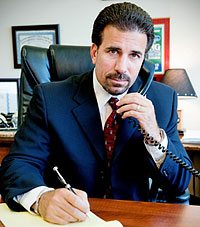 As one of the few attorneys who focuses his practice on motorcycle accident claims only, Mr. Gaber has seen about every accident situation and carries a unique understanding of the needs of involved parties, even beyond settlement amounts.
Lee also understands the urgency with which claims must be handled because of what it means to his clients with regard to the serious financial hardship that often accompanies these accidents.
In addition, he understands the bond that many bikers have with their motorcycles, and his office will do everything possible to make sure that your motorcycle is either properly fixed or replaced.
---
"Our job is to get to work immediately to make sure that your bike has been secured and brought to a shop where you want it, and evaluated to determine if it has been totaled or if it can be repaired.
If it can be fixed, we will ensure that this is done to your satisfaction. If it is totaled, we make that you receive the compensation you are entitled to."
Beginning with your first phone call, we take over every aspect of your claim. From the minute you hire me, your stressful job is over and ours begins.
Injuries, Lost Wages and Pain & Suffering
It's a triple whammy when an accident involves more than a simple bike repair. Often injuries come with the trifecta of
This is when an experienced New Jersey motorcycle accident attorney is invaluable.
I am known by many insurance companies as an experienced lawyer who cannot be taken lightly. You can be sure I will get as much for you as is possible for your situation. Each accident is unique.

---
Call me at 856-667-6672 for a free consultation on your exact situation.
---
It is a quick call and I can put you at ease immediately by taking on all of the stress and legal questions.
Important: Do not talk to the insurance company, they are professionals at manipulating the situation in their favor from the start. I represent you, so you don't have to argue with them.
A Member of the Biker Community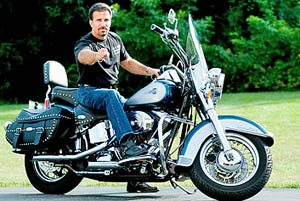 I ride a 2002 Harley-Davidson Heritage classic – the same bike that I am pictured on in this website. So, I experience everything you do, as a rider.
Being a rider is invaluable when it comes to seeing accidents from your vantage point, and arguing with insurance companies from a knowledgable basis.
In addition to my riding experience, I has been invited as a guest lecturer at many motorcycle clubs and organizations throughout New Jersey, and have been an active supporter and participant in many biker related charitable organizations including:
Burlington Bike Night
The Cure for Autism
Bikers Against Child Abuse
Camp Joy
Christmas in July
Day with a Vet
The Children's Miracle Network
The Daniel Faulkner Memorial Motorcycle Run
Friends of the Forgotten
Rolling Thunder
The Salvation Army Toy Runs
and many more
The point is, I don't just handle cases for riders, I am personally committed to the biker community and spend a great deal of time educating as many motorcyclists as possible through public speaking and appearances at hundreds of motorcycle events throughout my career.
You may have seen my column, "Ask the Attorney", in East Coast Biker, Motorcycle Monthly, Fast Lane Biker and the Keystone Motorcycle Press, where I disperse as much knowledge as possible through my experience as a New Jersey motorcycle attorney.
When you need a New Jersey motorcycle attorney to handle your accident, you can be sure that by retaining Lee Gaber, the 'Cycle Attorney", you have chosen wisely!
Call 1-888-292-5352 (888-cycle-law) for a free consultation.