My motorcycle accident law firm has offices in Cherry Hill, NJ and Conshohocken, PA. My offices are conveniently located so that I can usually meet with motorcycle injury clients if they can't come to one of my offices.
I am known by many insurance companies as an experienced lawyer who cannot be taken lightly. You can be sure I will get as much for you as is possible for your situation. Each accident is unique.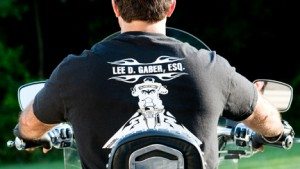 The Law office of Lee D. Gaber, Esq. represents the victims of Motorcycle accidents!
We have never worked on behalf of any insurance company, nor do we ever intend to. Our focus has always been on you, the injured party and it always will be!
Motorcycle accident law firms protect your rights. We buffer you from the trained professional tactics of insurance company reps, whose goal is to pay you as little as possible for your motorcycle injury or accident.
Motorcycle accident attorneys maximize that payment for you!
My law firm has successfully recovered tens of millions of dollars in damage awards for the thousands of motorcycle accident victims throughout New Jersey and Pennsylvania.
---
Call 888-292-5352 for your free consultation if you had an accident in NJ that was caused by the negligence of another person; either their actions, or their in-actions.
Motorcycle Law Firm History
Prior to becoming a motorcycle accident attorney, I received my degree in Finance from the George Washington University in Washington D.C. After graduating law school in the spring of 1991 from the Widener School of Law, I immediately began to represent people who were involved in serious motorcycle accidents and automobile crashes.
Over the years, as my law practice grew it became almost 100% focused on representing motorcycle accident victims and their families. The reputation of my motorcycle law firm flourished among the biker community, thanks to many satisfied clients who spread the word, and that is how I became known simply as the "Cycle Attorney".
In the early days, my practice was located in Philadelphia. Not long after I focused on motorcycle accident law I moved my practice primarily into Conshohocken, Pennsylvania, with an office in Cherry Hill.
As a motorcycle accident victim, it doesn't matter where you are located, as a caring motorcycle accident lawyer I take on clients across both states and will come to you.

Over the years my motorcycle accident law firm has represented members of virtually all of the local motorcycle clubs as a motorcycle injury lawyer for medical bills, recovering lost wages, and for cycle damage.
This includes members of various clubs like the H.O.G Clubs, A.B.A.T.E. of NJ, the C.M.A. Gold Wings, Freedom Cruisers and the Leathernecks in New Jersey; and The Blue and Red Knights, The Blue Comets, Reading Motorcycle Club, The Patriots, The Mavericks, The Lucky Seven, Bucks County Motorcycle Association, The Centurions in Pennsylvania, and B.A.C.A. chapters throughout PA and NJ. As well as many other cycle clubs that are too numerous to list here.
Remember, motorcycle accident lawyers are here to protect your rights, and the motorcycle law firm of Lee D. Gaber cares about their clients.
Free Motorcycle Accident Case Review
You deserve an experienced motorcycle accident law firm to represent you, or your loved one. If you have been involved in an accident give the real "Cycle Attorney" a call at 888-292-5352 (888-CYCLE-LAW).
The call only takes a few minutes and the information you will receive is not only free, but is invaluable!
Relax and Let Us Take the Stress Off of You
Once you hire the Cycle Attorney, for a motorcycle accident, I handle every aspect of your claim, beginning with the repair of your bike and ending with the final distribution of the compensation for your motorcycle accident injuries.
We take care of your bike
We recover lost wages
We get medical bill compensation, and
We recover pain and suffering
There is never a fee until we win your case!
Remember, the cost is the same whether you hire an experienced New Jersey motorcycle accident attorney to represent you as it does to be stuck with a pretender who doesn't ride or focus their practice on motorcycle accidents.
New Jersey consultations are free. Call 888-292-5352 (888-cycle-law) – right now!
We are available to take your call 24/7 — 365 days a year. Contact motorcycle personal injury attorney Lee D. Gaber, Esq., you'll be glad you did.
---
Read some initial motorcycle lawyer answers to common questions.
---