If you haven't spoken to the other driver or the insurance companies (yours or theirs), don't!
Before you accidentally say something and damage your motorcycle accident claim, call NJ motorcycle accident attorney Lee Gaber at 888-292-5352 (888-cycle-law).
Lee Gaber is a premier motorcycle accident lawyer for New Jersey, having handled motorcycle accident cases almost exclusively since 1991.
Lee handles motorcycle accident cases involving injuries and medical bill compensation, lost wage recovery, pain and suffering, and damage to your bike and gear (property damage). If you aren't sure if you have a case, please call and we will help you determine if you do.
Although many of my clients had never been involved in an accident and may never have given motorcycle lawyers a second thought, after one consultation virtually every client feels more more at ease than before the consultation, knowing that they no longer have to deal with the insurance companies on their own.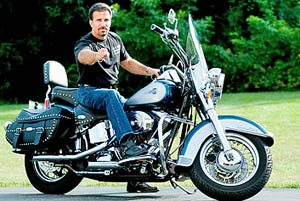 In addition to his experience, the primary benefit you get from choosing Lee Gaber to represent you is that unlike most motorcycle accident attorneys who advertise as "motorcycle accident lawyers" can't claim – he actually rides.
Lee rides a 2002 Harley-Davidson Heritage classic – the same cycle that he is pictured on in this website.
As an active rider Lee has valuable insight into not only the mechanics of motorcycles themselves, but also into the dynamics of why and how motorcycle accidents happen. Other attorneys only read about, or guess at these things.
The bottom line is, either you ride, and understand… or you don't! Hear the difference for yourself by having a short conversation with Lee at 888-292-5352 – 24/7.

Representing Bikers for Over 30 Years
Lee has represented NJ bikers from every walk of life nearly from the start since receiving his license to practice Law in 1991.
Before that he attended the George Washington University in Washington D.C., where he received his B.A in Finance. He was offered a job as a Financial Consultant with Janney, Montgomery Scott, where he stayed for approximately two years while his passion for law school began to grow.
After graduating law school, from the Widener School of Law in the spring of 1991, he began to immediately represent people who had been involved in serious motorcycle accidents and automobile crashes.
This combination of Law and Finance degrees has enabled Lee to help clients in consultation about smart investing of their accident compensation proceeds.
---
Call motorcycle accident lawyer Lee D. Gaber at 888-292-5352 for a free consultation.
---
Lee has represented members of too many motorcycle organizations to count, and has been invited to lecture as a guest speaker at many H.O.G. and Abate chapters throughout Pennsylvania and New Jersey.
Motorcycle accident attorney involvement does not mean you are filing a lawsuit.
An often misunderstood aspect to working with a motorcycle accident lawyer is that it means you are looking to take someone to court. On the contrary, it means you want to settle things quickly without being jerked around.
My clients are smart and realize that having counsel from a level-headed attorney who knows how to sidestep the tactics of an insurance company ensures that they are taken seriously and helps them to be treated fairly.
All Your Questions Will Be Answered
Even in an accident claim where liability for the motorcycle accident is clear, insurance companies may attempt to assign a percentage of negligence to the biker who suffered the injury.
This may be done through false allegations that reckless driving or speeding led to your motorcycle accident.
Hiring motorcycle accident attorney Lee Gaber for provides immediate relief from those tactics. Just tell them to talk to your attorney!
NJ motorcycle accident victims enjoy the benefit of free consultations with Lee D. Gaber, Esquire.
The Best Motorcycle Accident Lawyer and the Best Staff
Another benefit of using our firm over other motorcycle accident lawyers is that retaining motorcycle accident attorney Lee Gaber to handle your claim, you not only get the personal attention you deserve, but you also get a staff who understands that we are retained to get you the best possible settlement.
This superior service begins with your first phone call to our motorcycle law firm.
We immediately take over every aspect of your claim, from the minute you hire us. You can now relax and focus on recovery because your job is over and our job has begun.
We will get your bike secured and brought to a shop where you want it to be fixed to your satisfaction. And, if it is totaled, that you receive the full amount of compensation you are entitled to.
Ultimately, if you are searching for either a New Jersey motorcycle accident attorney, you want a real "motorcycle accident lawyer" who rides and takes the time to explain all the aspects of motorcycle law to you — pick up the phone right now and dial 888-292-5352 that's 888-Cycle-Law.

If you prefer you can review some frequently asked motorcycle lawyer questions before calling, but we will explain everything you need feel to comfortable working with us.