Motorcycle Crash Attorney for Cycle Repair and Property Damage
Throughout my career as a New Jersey motorcycle crash attorney, one of the interesting things I have observed is that many of my clients care as much about their motorcycles (sometimes more) as they do about their own injuries suffered during their accident.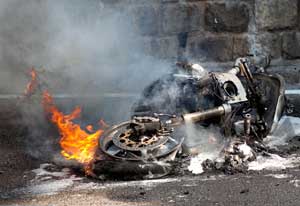 I completely understand the emotional attachment that forms between a biker and his motorcycle. That is something that lawyers who simply call themselves "motorcycle crash attorneys" can't, and won't ever be able to understand.
I have been riding the same Harley since 2002. It is customized to my specifications and most importantly I know its history.
Once you make the choice to hire me as your motorcycle accident attorney to handle your claim, and I have a good understanding of your situation, I get to work immediately on making sure your motorcycle is fixed and you receive proper compensation for your motorcycle and all personal items that have been damaged (property damage claims).
Property damage may cover such things as your:
bike
helmet, boots and gloves
clothing
computer, tablet or mobile phone
anything you are carrying on your bike
---
I can be reached 24/7 at 888-292-5352 for a free consultation.
---
A Leader Among Motorcycle Crash Lawyers
Among the first things I hear from clients is that they chose me over other motorcycle crash attorneys because I ride.
They know it will be easier to work with a lawyer who speaks their language when it comes to making sure their bike is fixed to their satisfaction and specifications.
When you hire a New Jersey motorcycle accident lawyer who actually rides you can be sure that I understand what you mean when you want to get another "screaming eagle" as soon as possible, or tell me that your "triple tree is bent".
Not all motorcycle lawyers know these things, and communication issues are the last thing you need with your motorcycle attorney.
Obviously we don't just stop at property damage, you can also hire Lee as your New Jersey motorcycle injury attorney to recover your lost wages, get compensated for your medical bills, and ultimately recover for your pain and suffering by hiring me.
Fees Come Out of the Settlement
We will make sure your motorcycle is fixed or replaced, but the best part is that as your motorcycle accident lawyer I never charge a fee to you for taking care of your property damage.
We only get paid once we obtain a motorcycle accident settlement or verdict for you.

Every accident claim we handle is on a contingency basis – unless we are successful in obtaining a recovery we don't get paid! That's guaranteed incentive that we do everything we can to win your case.
When you hire the "Cycle Attorney" you are guaranteed that my law firm is always ready, willing, and able to vigorously represent you to achieve the best result for you.
So contact motorcycle personal injury attorney Lee Gaber.
Call 24 hours a day, seven days a week. 888-292-5352 that's 888-cycle-law to discuss your options after an accident.