The majority of my clients had never been in a motorcycle accident and had never given a second thought to motorcycle injury attorneys.
They had no idea how to hire a New Jersey motorcycle injury attorney, and seemed unsure how to proceed.
Well, I can assure you that after one consultation virtually every single client I work with tells me how much more at ease they felt.
This primarily stems from knowing that they are done speaking directly to insurance company representatives as soon as they call me. So they don't need to deal with the strong arm tactics of professional insurance negotiators.

You can call me at 888-292-5352 24 hours a day, 365 days a year.
I personally guarantee that every call to my motorcycle injury law firm will be returned within the same day it is received!
As your injury attorney I make sure that you are receiving the medical attention you deserve and that you are financially protected in regard to your medical bills.
Don't Go It Alone, Hire Motorcycle Injury Attorney Lee D. Gaber
No pressure, free consultation with no obligation to use my services. Call anytime.
---
So How Does This Go?
You will likely be asked by both your own insurance company and the insurance company representing the person causing your accident for permission to record you from your very first phone call.
Therefore it is best to talk with me first. But you should still call me even if you have given a statement already.
Don't allow your calls to be recorded – it is always a mistake.
The insurance rep is a trained professional and will attempt to "put words in your mouth". They may even try to record the call while you are under the influence of pain medication to further strengthen their case against you.
Just tell them "talk to my lawyer, Lee Gaber", and you don't have to say another word to them.
---
Call 888-292-5352 or Email Him For a Review of Your Injury Accident
---
We will help you get medical care for your injuries if you have not yet received attention.
Once you are stabilized, we discuss your case with you, interviewing you with the desire to help you recall your accident as best you can. We will investigate the causes and all the many factors involved.
We request a police report, and may interview witnesses. Some cases require that we hire an accident forensic expert to investigate the cause.
We inquire about insurance coverages from the opposing insurance company to determine the amount, if any, they have available for reimbursement.
Once we have all the facts, causes, statements and an accurate assessment of your current and future projected medical expenses we add them to any lost wages, cycle and equipment replacement costs, as well as pain and suffering damages to write a demand letter.
We are with you from start to finish. Settlements are a negotiation process and we get you the best motorcycle injury settlement possible.
Consultations are free!
---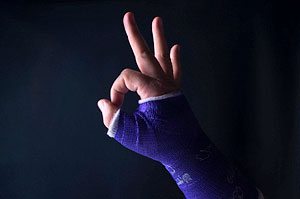 We Will Assist in Getting Your Injuries Addressed Right Away
We help many of our clients who do not have medical coverage to receive the best medical care possible, while investigating available medical assistance programs.
Contrary to public perception, due to no fault laws, the other party's insurance company is not responsible to immediately pay for your medical bills from the accident.
Call the Cycle Attorney at 888-292-5352 (888-cycle-law)
Most motorcycle injury victims believe that if someone else is at fault for their motorcycle accident, then the other person's insurance company will take care of their medical bills.
Nothing could not be farther from the truth!
The insurance companies do not care about your losses – their priority is their bottom line and protecting their customer.
Right or wrong, this is the reality we are all faced with. This is why you hire a motorcycle injury attorney.
NJ motorcycle injury attorney Lee Gaber has over 27 years of experience helping injured bikers get their medical bills reimbursed after their accidents.
Why Motorcycle Injury Lawyers Are Necessary
If you are seriously injured in a motorcycle accident, and don't have any private medical benefits, you are still legally responsible to pay for your medical bills resulting from your motorcycle accident.
This is the law and it makes no difference to the medical billing departments who was responsible for the injuries.
Their stance is simply that you are the one that received medical care from them, therefore they expect payment from you.
The "No-Fault" Law is a Complete Misnomer
What the phrase "No-Fault" actually stands for is a principle wherein if you are involved in a motor vehicle accident, such as a motorcycle accident, regardless of who is at fault for the accident the injured party is responsible to pay for their own medical bills.
What Can Motorcycle Lawyers Do?
I fight for you to get your motorcycle injury accident medical bills paid by the person who caused your accident.
The most common method to do this is to attempt to resolve your motorcycle accident claim quickly; and to reject a motorcycle accident settlement offer that short changes you.
Just because New Jersey is a "No-Fault" state does not mean that those responsible for your injury are off the hook!
They are ultimately responsible to pay for your medical bills if they are still outstanding when the case resolves – IF they have sufficient insurance coverage to do so.
However, please understand that the typical driver usually does not have more than $25,000-$100,000 in total liability coverage on their vehicle.
This represents the amount you can recover from the insurance.
I Also Negotiate Medical Bills on Your Behalf
Despite their high bills, most medical providers are used to only receiving about 20% of the amount they charge.
We can normally negotiate with the medical providers to accept a fraction of what you actually owe. This alone makes hiring an attorney to help with your accident injuries worthwhile.
---
Call 888-292-5352 for a free consultation.
---
Please contact motorcycle personal injury lawyer Lee Gaber for a no-obligation review of your New Jersey accident. There is never a fee to you until your case is resolved in your favor.
I'm available 24/7!
If you are confined to your hospital bed, or are home but unable to come to me, I will come to you.