Experienced New Jersey motorcycle lawyer Lee D. Gaber, answers your questions about motorcycle accident law.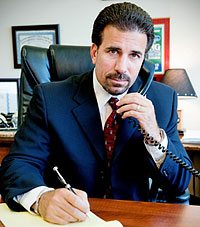 Q. Should I work with the insurance company first and see if they treat me fairly before I hire a motorcycle lawyer?
A. NEVER DO THIS! This could be the single most detrimental thing you could do.
Insurance companies train people to become real pros at getting you to say things out of context and twist your words and thoughts to say something and get it recorded.
I can tell you without hesitation, as will all motorcycle lawyers, insurance companies will NOT treat you fairly, unless you have a motorcycle attorney.
---
Q. Will I have to go to court if I sue for my motorcycle accident in New Jersey?
A. The first thing to realize is that when you hire me as your New Jersey motorcycle accident attorney you are simply having me negotiate on your behalf to get you the maximum award for your motorcycle injuries and damage to your bike.
Once we consult with you, we will be able to determine if it will be able to be negotiated as a settlement, or whether we need to file a lawsuit.

---
Q. I am partly at fault for my accident. Can a motorcycle lawyer still help me?
A. What you are referring to is known as "Comparative Negligence", or "Contributory Negligence". It is a comparison of your responsibility as opposed to the defendants' responsibility.
Motorcycle lawyers argue on your behalf to establish that the other party was negligent and work to establish a larger percentage to the defendant, to maximize your award.
Call experienced motorcycle attorney Lee Gaber at 888-292-5352 and tell me your situation.
---
Q. My accident required surgery. The vehicle that hit me has insurance but refuses to pay me for the 6 weeks that I have to stay off work. Should I hire a motorcycle personal injury lawyer to recover lost wages?
A. Most insurance policies in PA and NJ don't have any wage-loss coverage so, unfortunately, the only way to recover lost wages is to make it a part of your accident claim at the time of the motorcycle accident settlement or make it a part of a lawsuit.
Motorcycle lawyers can still help – give me a call at 888-cycle-law.
---
Q. I had an accident in NJ, and it took me four days to locate my bike afterwards. I do have collision insurance. What is the quickest way to start getting my bike repaired?
A. The quickest/easiest way in your situation is to call your own insurance company. DO NOT make any conversation about how the accident occurred, who was at fault, or your injuries, and NEVER under any circumstance allow them to record you.
The choice to record, or not, is always yours. The insurance company knows this, and they record without your permission they risk prosecution.
Simply tell them you had the accident and where the motorcycle is. This will force them to send out an appraiser to estimate the motorcycle damage and begin the process to authorize repairs.
---
Q. Can I hire a motorcycle injury attorney for a pain and suffering award to help me with psychological issues resulting from scarring?
A. Motorcycle accident attorneys can make a claim for your damages, depending on the severity, and ultimately we will collect an award on your behalf. As long as the other party was at fault, you are entitled to recover damages.
---
Q. I have health insurance, but it's a large deductible, my bike had a lot of damage, and I have no disability insurance to pay my lost wages after my accident. Can a motorcycle injury lawyer help me?
A. I probably get asked this question fifty times each year. Once we go through all of the facts of your case, I will leave you with a concise set of instructions which will set you on a path to allow you to get your motorcycle fixed, your medical bills paid, your wages compensated.

It's a free conversation, if your accident was in NJ, when you call me.
Free Case Review 888-292-5352
Have a question for a motorcycle lawyer? Email motorcycle personal injury attorney Lee Gaber or call toll free at 888-292-5352 (888-cycle-law) 24 hours a day, seven days a week.