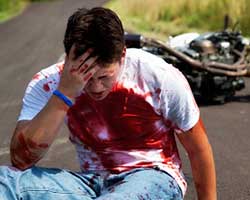 Over the years most of my clients have asked me what insurance company they should use for their motorcycle? Because of my experiences as a New Jersey motorcycle accident attorney, I always tell them the same thing…. if you have State Farm for your automobiles, use State Farm for your bike!
Important Tip for Motorcycle Insurance
Be sure you purchase equal amounts of uninsured AND underinsured motorist coverage and ALWAYS buy the "stacking" option.
Many people do not realize how much interaction happens between an insurance company and an attorney in an accident claim in New Jersey. Motorcycle accident lawyers essentially negotiate claims with insurance companies on behalf of their clients. So believe me, I've had a lot of interaction with these companies over the years.
What if I have another carrier?
If you do not have State Farm then get a quote from Rider Insurance. In my opinion, they are the best motorcycle insurance carrier around today and I suspect they will remain the best for quite some time.
If for some reason you can not get Rider then get a quote from Foremost and/or Dairyland. These companies may be a little more expensive then Progressive or GEICO, but when and if you need them, they will be around to protect you.
I hope you find this information helpful however, if you have questions about insurance coverage, or any other motorcycle related matter, I encourage you to you reach out to me via this website, or you can call my NJ motorcycle accident law firm at 1-888-292-5352 (1-888-CYCLE-LAW).
I am always interested in hearing from my readers and will be happy to address your concerns in my columns. Knowledge benefits everyone.
Note: I have no affiliation with State Farm, or any of these companies I am recommending. This is just my personal recommendation from experience.