Hire Lee as Your Motorcycle Injury Lawyer to Recover Lost Wages
Soon after a person with motorcycle injuries contacts me I am usually asked, "Will my lost wages be compensated?".
I understand how devastating it can be to your finances if you are laid up in the hospital, or at home, after your motorcycle accident.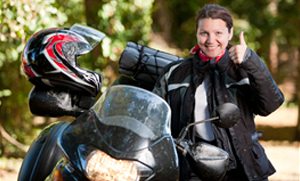 This can be a game changer if you have a physical job and you've just been told that you must remain non-weight-bearing for eight to twelve weeks, or longer!
Often one of the most devastating consequences of being involved in a motorcycle accident is losing the ability to earn a living like you did before the accident, either temporarily or permanently.
Fortunately, when you hire a good motorcycle injury attorney your chance of having lost wages recovered increase greatly.
A harsh fact, adding insult to injury, is that a New Jersey motorcycle accident attorney cannot force insurance carriers to pay any part of your lost wages from a motorcycle accident until they decide to resolve your entire motorcycle accident claim; or until we force the issue in court.
Depending on your motorcycle injuries, as your motorcycle accident lawyer, I can typically recover your lost wages in as little as 3 months, depending on the strength of your accident claim.
Good News – We Offer "No Win, No Fee" Handling of Accidents
Don't hesitate to contact motorcycle personal injury attorney Lee D. Gaber, Esq. if you were involved in an accident through no fault of your own. You are never charged for a consultation in NJ until we win your case! Call 888-292-5352 for details.
---
Just remember 888-cycle-law. Or better yet, enter my number into your phone contact list now
---
A Motorcycle Injury Lawyer Who Will Protect Your Rights
Many motorcycle accident victims immediately fall behind on their mortgage, rent, or utility bills, as they are laid up and unable to work at jobs that provided their only income.
The stress can, at times, be nearly unbearable.
Some immediate remedies available to motorcycle injury attorneys to help keep a motorcycle accident victim afloat are available, such as borrowing money.
However, I will not sugar coat the reality – depending on how the motorcycle accident happened, the severity of the injuries, and even the identity of the other insurance company, it can vary as to how quickly I can recover your lost wages.
What About Returning to Work Before Full Recovery?
This is never an ideal situation, but when faced with the possible loss of their home, victims often feel compelled to get back to work, sometimes before they are 100%.
My advice is that if my client needs to get back to work, and are able to, they should not put their motorcycle accident case ahead of earning a paycheck to handle bills.
Many motorcycle accident victims convince their doctors to allow them to go back to their jobs to avoid being fired. Ultimately, you need to trust your doctor.
What are the Chances I Can Get Compensated for Lost Wages?
We will ultimately recover lost wages from your NJ motorcycle accident.
However, most insurance companies only pay lost wage compensation as part of an overall motorcycle accident settlement, including not only lost wages but also medical bills, and any pain and suffering compensation.
If you cannot return to your former employment because of your injuries and are forced to take a lower paying job, we will make a claim for "loss of earning capacity".

My job as your injury lawyer may include hiring a vocational economist; we are always prepared to hire the brightest experts to ensure that our clients receive every dime they are entitled to after their accident.
If you have an option to purchase some type of additional "income protection" either privately or through your employer, I would advise you to do so.
Call me at 888-292-5352 in New Jersey to discuss your specific case. Consultations are free for NJ and PA accidents.