10 steps victims of New Jersey DUI accidents must take
One of the most terrifying, confusing, and potentially deadly experiences a motorcycle rider will ever face is being in a motorcycle vs. car accident.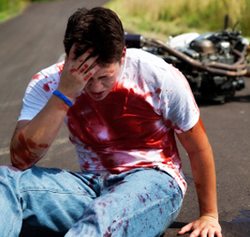 When you discover the at fault driver was under the influence, you can add "infuriating" to that mix of strong emotions as well.
Please do not confuse my services with those of DUI law firms that help impaired drivers reduce their penalties or get their licenses back. I am an NJ motorcycle wreck lawyer, and in DUI cases, I focus on protecting the rights of drunk driving victims.
Call motorcycle wreck lawyer Lee D. Gaber at 1-888-292-5352 24/7.
As a compassionate NJ motorcycle accident attorney who is also an active biker, I have an intimate understanding of the increased risks we face every time we get on the road. The fact that some drivers are so self-involved that they would put our lives in even greater danger by getting behind the wheel drunk makes me see red.
A quick internet search indicates that the typical DUI lawyer is interested in advising and defending the drunk driver. Sometimes it appears that no one is committed to protecting the innocent in these incidents.
Fortunately that is not true. Please let the following tips stand as proof that one of the most tenacious NJ motorcycle wreck lawyers in the business is fighting for you.
The 10 most important steps to take if you are hit by a drunk driver
Unless otherwise noted, these tips are created under the assumption that you are conscious and at least somewhat mobile.
Remain calm and assess the extent of your injuries. If anyone is hurt and you are able, call 911 immediately. If possible, move your bike to the side of the road to prevent further damage.
Cooperate fully with safety personnel and police as they arrive at the scene of the accident.
Do not speak to the other driver any more than is necessary to secure their contact information; do not accuse them of being intoxicated. If they have been drinking and have just caused an accident, they may be agitated or aggressive. Speaking with them while emotions are running high could instigate an argument or violence on top of the accident itself.
Obtain information if you can about the at-fault driver.
Obtain contact information from other accident participants or victims.
Document evidence that the at-fault driver was intoxicated. Observe and record their behavior at the scene. You may even take a peek into the vehicle to see if you can see any signs of bottles or cans of alcohol, but only if it is safe to do so.
Document the scene of the accident. Take video or photos of the location, damage to your bike, etc. when possible. Make sure to photograph or write down the other driver's license plate number. As soon as you are able, write a thorough and detailed narrative of the incident.
Seek medical treatment as soon as possible, even if you don't think you are seriously hurt; remember to keep your documentation. If your injuries manifest down the road rather than immediately your motorcycle injury lawyer will need to submit these records to recover your medical bills.
Don't attempt to negotiate with an insurance company for DUI accident compensation.
Reach out to a qualified NJ motorcycle wreck lawyer to file a claim for you.
Although based in Cherry Hill, NJ, my motorcycle accident law firm is proud to protect the rights of the victims in any DUI related NJ motorcycle wreck.
Lawyers have an obligation to fight for the interests of their clients and I take that responsibility to heart every day.
The aftermath of a DUI accident can be extremely confusing. But there is someone on your side during this difficult experience.
Call PA and NJ motorcycle wreck lawyer Lee D. Gaber at 1-888-292-5352 (888-cycle-law) right now to schedule your free consultation.