I was reading an article on that topic "Can Money Buy Happiness?", and the author suggested the obvious – that having extra disposable income makes life a little easier, but also pointed out that it in no way guarantees a good or rewarding life.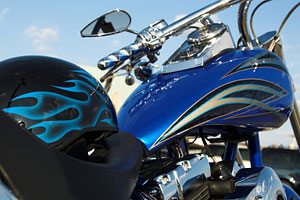 The researchers found that the manner in which people used their extra money, determined the amount of pleasure they received from spending the money. For example, people who gave to others, who were less fortunate than they were, seemed to derive more pleasure than using the money to buy something for themselves.
A New Motorcycle or a Motorcycle Trip
The research also suggested that using the money for experiences, like travel, ultimately made them happier than using the money to buy nonessential items, like new mirrors or more chrome for their bike. 
Most people who have to make a choice between buying something for their guilty pleasures, or experiencing something new and exciting, usually opt to buy the material objects – its instant gratification! 
But in hindsight, the people who had some type of adventure, even if not grand, generally felt happier having created memories they can reflect upon and cherish long after whatever they could have bought ends up in the landfill.
Many of us have a motorcycle that we have spent a lot of money on customizing to make it our own.  But when we see a buddy riding a new bike, it's only natural to think "wow"… then the next thing you know, we're in the dealership negotiating for a new ride and trading in a perfectly good bike. 
Now, although the new bike might look a little better, it unfortunately comes with 48, or more, new payments and does the same exact thing our old bike did! 
By the way, I'm still riding and enjoying my Heritage Softail Classic that I bought in 2002, the same one you see my wife and I are on in our advertisements.   Although I can't even count the times I have walked into a Harley shop and stared at the same bike, newer of course, and came very close to buying it, but ultimately I walked out content to keep my old ride.
Make Some Memories
So the next time you have a couple of extra dollars to spend, grab your spouse or your significant other, and go make some memories.
Have a safe summer and please don't hesitate to contact me if you have any questions for a New Jersey motorcycle injury lawyer. I can be reached 24/7 at 888-292-5352 (888-CYCLE-LAW).