I'm not going to beat around the bush – my first tip is my best tip, and that is to find and hire an attorney who focuses his practice on motorcycle accidents.
In fact, no matter what type of service you are hiring, a specialist is always the way to achieve the best results. Do you really want that slip and fall lawyer handling your New Jersey motorcycle accident settlement?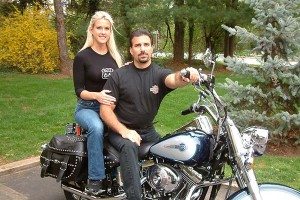 We'll get to the rest of the tips on finding a New Jersey motorcycle injury lawyer in a bit, but let's take a look at why you even need a motorcycle accident attorney in New Jersey.
I'm going to let you in on a harsh truth: the other driver's insurance may not cover your injury expenses, and their provider will do everything in their power to make sure they pay out minimal amounts.
Their tactics will include deceiving you, not returning calls, delaying and trying to outlast your ability to pay bills, bullying you, tangling you in red tape to get you frustrated, and making the entire process generally more of a hassle than it needs to be (welcome to my world!).
An experienced NJ motorcycle lawyer like me will cut through those hassles and avoid owing or losing a lot of money. Before you call me at 888-cycle-law, let's review what you want in a motorcycle attorney to handle your injury claim.
Motorcycle accidents are not like other personal injury claims.
Heck, motorcycle accident cases are not really much like any other traffic accident cases. The vagaries of motorcycle law aside, often bizarre and confusing insurance details come into play; not to mention the physics of riding a motorcycle – which perform a role in the types of injuries sustained in a motorcycle accident – make motorcycle injury claims unique and complex.
You're simply more likely to recover all of the compensation you deserve for lost wages, medical expenses, property damage, and even emotional distress if you go with an experienced motorcycle accident attorney who focuses on these cases.
If you've been in an accident, contact Lee Gaber, Esquire at 888-292-5352 (888-cycle-law) for a free consultation.
What should you look for in a motorcycle injury lawyer?
Communication – You will be talking to your motorcycle attorney about accident facts, your work, your medical situation, your other bills, such as your mortgage and finances, and possibly even about your family. Make sure you can communicate well with your attorney, and that he communicates well with you. Is he able to explain things clearly to you?
Experience – Your motorcycle accident lawyer must be well-versed in national, and New Jersey motorcycle law, and should give you confidence that he knows unique local regulations as well. Another element of experience relates to my previous point on communication. An experienced motorcycle attorney will have communicated with many insurance companies and be well respected by them as a firm negotiator.
Passion and Commitment – How prominently does motorcycle accident law figure on your prospect's website? Is it one of a dozen, barely related personal injury areas? Do they even seem remotely knowledgeable about bikes and cycle culture and issues? If they mention on their website that they ride, ask them some questions about it. Does it seem as if they are a motorcycle injury lawyer who actually loves to ride?
Skill – This can be a little tricky to figure out from speaking with an injury attorney, because we are, above all, persuasive talkers. The attorney should be willing to give you references and invite you to call them. Every personal injury lawyer has a track record, and if they are good, they'll be more than happy to share it with you. I bring an additional skill to the table. I have financial experience in my background, in addition to being a dedicated motorcycle accident lawyer.
Location – Make certain your attorney is located in, and is licensed to practice in the state where the accident took place. They will know state law, and maybe have relationships with local officials that may be advantageous for you and the success of your claim.
Contract – Will the motorcycle law firm take your case on a contingency basis? I take cases on a "no-win-no-fee" basis; this means that if you don't win, I don't get paid. This is a big incentive for me to fight as hard as possible for your rights and compensation.
Hire your motorcycle lawyer sooner rather than later.
You may not need to be told this because you probably have been racking up medical bills and may have lost wages, and need reimbursement.
Be aware that the deadline for filing a claim is two years in New Jersey. In addition, I should mention that the longer you wait to start your claim, the more difficult it will be to recreate or recall the conditions that led to the accident.
Absolutely make sure to contact a lawyer before agreeing to a settlement with an insurance company.
To get answers to other questions you may have about finding and hiring a qualified New Jersey motorcycle injury lawyer contact Lee Gaber, Esquire at 888-292-5352 (888-cycle-law). Your New Jersey or Pennsylvania consultation is free!