It may seem odd at first, a motorcycle lawyer creating a list of benefits for calling, but some folks may still skip over the benefits of hiring a New Jersey motorcycle lawyer due to what they perceive lawyers do.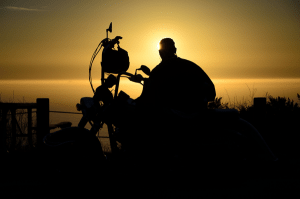 Public jokes about lawyers aside, when you are in a motorcycle accident you will find that your lawyer is the one you confide in and rely upon to get your life back in order.
The adversary in a motorcycle accident usually becomes your insurance company.
Call me for a free consultation for your New Jersey Accident to find out why.
The truth is personal injury lawyers can be your best friend when you have an accident.
We take the mental pressure off during a time of great stress when an insurance negotiator may be badgering you.
We may be able to take the pressure off financially when you are out of work and facing unpaid bills.
We do the talking for you to assure you don't say the wrong thing.
We can usually negotiate higher settlements for you, knowing track records of insurance companies.
We have investigators to unravel disputed facts and uncover evidence.
We know all of the damages to which you are entitled, whereas you may leave something on the table.
We spend time on phone calls, evidence, research and paperwork allowing you utilize that time catching up on work, or simply to rest and concentrate on healing.
We know the best insurance companies for you and how to buy an insurance policy that suits your goals.
We are able to negotiate with insurance companies and doctors with less initial resistance and more effective outcomes than you could.
We help you understand confusing laws such as the "no-fault" law and their implications.
We know the ins and outs of claims for pain and suffering, and can guide you through these claims.
Perhaps most importantly, we can protect your rights and force insurance companies to settle on a reasonable timetable instead of stringing you along while you are laid-up, until you are broke and have to accept a lower settlement amount!
Hiring me, in particular, yields these additional benefits:
I specialize in my practice by representing only motorcycle accident cases.
I am a cycle rider just like you, so I can relate to your situation and understand the emotional attachment to your damaged cycle.
I have case after case of a 25+ year history to rely upon to get your best settlement.
I'm easy to talk with and will simplify what can be a very complicated process.
I will come to you if you are injured and can't come to me, even if it is a hospital visit.
I take cases on a contingency basis, so if we don't win your case, I don't get paid.
Any of these factors alone make it a smart choice to talk with a lawyer specializing in motorcycle accidents. But when you factor in that you receive ALL of these benefits, and it's a free consultation with me, it's crazy not to call 888-cycle-law for a quick review of your accident.
You are under no obligation to work with me after we talk. I just want the chance to help you, and advise you on your options. I think you will find that you were glad you made the call; at least that's what my past clients have told me.
New Jersey motorcycle accident lawyer Lee Gaber can be reached at 1-888-292-5352 24/7 365 days a year. That's 1-888-cycle-law.