Prevention and liability issues
Because of unfair stereotypes about motorcycle riders, it is often a challenge to establish liability when an accident occurs as a result of someone else's negligence.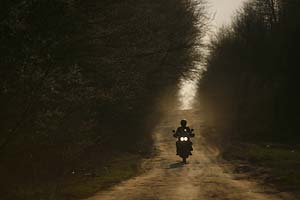 This is true even when the claim involves a fatal motorcycle accident. This can make it especially difficult for the family and loved ones left behind, as they seek justice and emotional closure, and as they try to determine whether the accident could have been prevented.
If this describes your situation, I believe I can be of service.
A qualified NJ motorcycle accident attorney can prove a valuable ally, fighting to defend your rights, holding those who took your loved one's life accountable, and easing a bit of the burden that rests on your shoulders during this difficult time.
It is never easy to lose a loved one, but it is even more wrenching when you realize that it could have been prevented, or the injuries made less severe.
Methods of preventing fatal motorcycle accidents
The fact of the matter is, when you get on a bike, you assume a certain amount of risk. While you cannot control what other drivers are doing, there are a few steps you can take to reduce your chances of being in an accident.
Don't drink and ride – Alcohol impairs reaction time and coordination. If you have been drinking, hitch a ride with a sober friend or call a taxi.
Don't tailgate – The car or truck you are following may have to stop without warning, putting you and your bike into a potentially deadly situation.
Don't linger in the blind spot – Bikes are already less visible to drivers than other vehicles. Don't make it even harder for them to see you.
Be aware of the riding environment – Take your high school driving teacher's advice, and ride defensively. Don't assume that anyone else on the road can see you or will make the right move.
Finally, wear your helmet. Wearing a helmet is one of the most effective ways to reduce your chances of becoming a statistic, diminishing your risk of catastrophic head injury by 70%.
Helping you to move on with your life
While nothing can bring your loved one back, if others are at fault in a fatal motorcycle accident, you or your family may be eligible to collect damages, which could help ease the financial burden of medical and funeral expenses, loss of financial support, loss of household services, and loss of companionship.
Being relieved of some of these burdens may make it a bit easier for your family to reach closure.
I have more than 2 decades of experience helping the families of victims as a motorcycle accident lawyer in Pennsylvania and New Jersey, and I am a rider myself. These facts allow me to understand not only the pertinent and applicable laws, but also the profound grief the victim's family must navigate.
My goal, above all else, is to help you and your family deal with these emotions, and to continue living your lives as your loved one would have wanted.
I have helped numerous clients through the tragedy of fatal motorcycle accidents in Pennsylvania and New Jersey and I understand the need for compassionate, tenacious representation.
Contact Lee D. Gaber, The Cycle Attorney, at 1-888-292-5352 (888-cycle-law) for your free consultation.