Any New Jersey motorcycle accident lawyer will tell you that the single most important aspect of getting larger motorcycle injury settlements is by adding to your insurance coverage.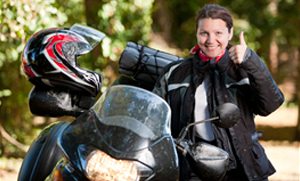 The way insurance works, in NJ, depending on your injuries, you are entitled to be compensated from the responsible party's liability coverage. However, if they are underinsured for the accident, or not insured at all you must then rely on your underinsured and uninsured coverage to collect money for motorcycle lawyers to maximize motorcycle injury settlements for you.
When you purchase motorcycle insurance on your bike in New Jersey (or PA) the insurance company is REQUIRED to offer you underinsured and uninsured motorist coverage in the same amount that you purchased in liability coverage.
Unfortunately most people's first thought when buying insurance is about saving money. In fact, most people only buy it because the law requires it, and don't even think about protecting themselves. People tend to assume that the other driver will have liability coverage.
They further assume that the other driver can be sued for amounts over the amount of liability insurance that they purchased. This may sound logical, however it is not correct thinking in this economy. People are hurting financially and one of the ways they save money is dropping the amount of insurance coverage they carry.
In reality, people buy as little coverage as possible. And no, it is not realistic to think you can successfully go after the driver personally and expect to recover an amount other than the amount of liability coverage they purchased.
If the other driver has $100,000 in liability insurance, your motorcycle accident attorney can recover up to $100,000 in damages in your motorcycle injury settlement. However, if they have no insurance, we have nothing to go after during negotiation unless you purchased uninsured insurance coverage to protect you in this scenario.
This is what your purchase of UNDERINSURED AND UNINSURED motorists is for… TO PROTECT YOU!
So What is My Recommendation?
I have seen too many policies wherein people have purchased liability insurance in the amount of $100,000 or more, and then bought less in underinsured and uninsured coverage!
Do not do this! This is the only part of your policy that covers you, or your loved ones, if you are injured or killed by someone with too little or no insurance coverage on their vehicle.
The language and concepts can be confusing if you are not in the insurance industry, and your agent will only explain so much of it to you because they don't want to be on the end of paying a large payout. So trust me when I'm telling you that for proper protection, you want as much underinsured and uninsured insurance as you can buy.

Before a Motorcycle Accident Occurs is the Time to Take Action

To be properly protected, and ensure the largest motorcycle injury settlements, everyone PLEASE, get out your policies right now and check to make sure you have taken advantage of the law allowing you to buy underinsured and uninsured motorist coverage in the same amount that you purchased in liability coverage!

When the time comes to collect damages from a New Jersey motorcycle injury accident, even if your case would otherwise be worth $500,000 with the extent of your injuries, the reality is, if you only have purchsed $25,000 in underinsured and uninsured motorist coverage, and the other driver doesn't have insurance, or only has has $25,000 in liability coverage, you only get $25,000 in NJ motorcycle injury settlements!

I have been able to obtain large motorcycle injury settlement amounts for my clients because of these coverages. However, the flip side of the coin is that in the absence of these coverages, I have seen people's lives ruined because my hands were tied.

If you have ANY questions concerning this topic, you need to learn about it because it is very important that you understand it.

Please feel free to reach out to me so I can help you grasp how important this coverage is for you and your family to allow New Jersey motorcycle accident lawyers the ability to get you a larger settlement if you are involved in a motorcycle accident.

I am Lee D. Gaber, The Cycle Attorney, and I can always be reached at 1-888-292-5352 (1-888-CYCLE-LAW) 24/7.