After many months of my wife telling me she wants to ride, we decided to add another bike to our collection.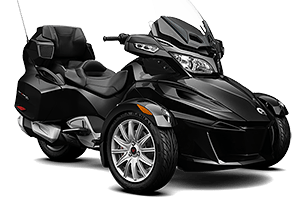 Although she has been riding for many years on the back of my soft-tail, we weren't quite sure if she was ready for her own two wheeler so we decided the safest thing to do was to buy her a Can-Am Spyder. As you can imagine, safety is the number one thing a New Jersey motorcycle accident attorney addresses when choosing a cycle for a loved one.
There is a local dealer within about 30-40 minutes of my home and we went up and took a couple of tests rides. The more she rode it, the more she liked it!
Safety Doesn't Have to be Boring
The one we purchased was used, with only 1100 miles on it, and the previous owner had added many extra's – all and all I think we got a pretty good deal. I have ridden it on several occasions and I will tell you, although its no Harley, it sure is a blast to ride.
My wife and I think we made the right choice for her, considering the Can-Am is easier to ride than a motorcycle. We don't have to worry about the bike falling over or her being able to back it up as it has a reverse gear. At the end of the day if she gets bored with it, I am sure my son would be happy to ride it or even my daughter.
Motorcycle Accident Insurance Notes
On another note, as many of you know, I am not a fan of either Geico or Progressive and the reason is simple: Inasmuch as they compete with each other on price, they mostly offer the minimum required insurance for both Pa and NJ which essentially is only liability coverage.
They do so without explaining what they don't cover (i.e. collision, medical benefits and/or un/underinsured motorist coverage (UM/UIM).
This may not be that important when you are only looking to stay "legal". But after you have spent all of that money on your new bike and it gets damaged and the other party is denying liability, you will realize just how important collision coverage is!
Not to mention if the other party is uninsured or, doesn't carry enough liability coverage to adequately compensate you for your injuries you will wish you had UM or UIM coverage.
I understand the need to save money wherever you can, but for heavens' sake buy some collision coverage, even if it has a high deductible and at least buy some uninsured and underinsured motorist coverage to protect you, and your passengers, in case you are ever involved in an accident.
In Pennsylvania they are required to give you UM/UIM coverage in the amount of your liability limits UNLESS you sign a waiver telling them not to. So when you buy coverage, even minimal coverage, do not sign any waivers.
As I have said many times in the past, if you are unsure what coverages you need, and in what amounts, call me, your go-to motorcycle accident attorney in New Jersey, and I will give you a qualified opinion on what you should carry for motorcycle accident insurance.
I Welcome Your Questions
If you have any issues you would like me to address in my blog, or maybe you have personal question, I encourage you to reach out to me by calling my NJ motocycle firm at 1-888-292-5352 (1-888-CYCLE-LAW). I am always interested in hearing from my readers and will be happy to address your concerns in my upcoming articles.