First, let me begin by wishing all of my faithful readers a Happy New Year. Hopefully you all had a great 2013, and 2014 will be even better!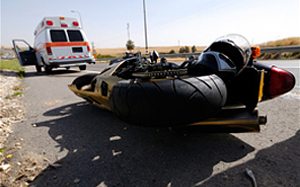 This month I want to tell you about a recent experience I had wherein a new motorcycle accident injury client, who according to his version of events, which were later confirmed by the police report, appeared to be a no-brainer.
He explained that he was traveling down a two-way road in Maryland and as he approached a cross-road, another driver went through a red light and crashed directly into his motorcycle resulting in a nasty collision.
My client who has been riding for many years, assured me that there were no obstructions to either of their views of the road.
After the collision, as he lie in the middle of the road completely torn up, the other driver came over to him crying about how sorry she was and admitted being at fault. She appeared sincere and tried her best to comfort him until the ambulance arrived.
Fortunately, the EMT's arrived quickly and they heard the responsible party apologizing and admitting she was at fault for the motorcycle accident injury. My client was immediately placed on a backboard and was whisked away to the nearest hospital.
Third Party Intervenes That Affects the Claim
In the meantime, the other driver's husband showed up and tried to quiet his wife so as to limit her admission of fault to the officer. My client never had the opportunity to speak with the officer, as he was already undergoing surgery to repair his severe injuries.
Unfortunately, despite the responsible party's admission of guilt at the scene, the police officer neglected to include any of what she said in the motorcycle accident injury report, but he did however, indicate that she was at fault even though there were no independent witnesses.
Sure enough once the insurance company saw there were no witnesses to the accident and that my clients version of the events were not included on the police report, the adjuster quickly denied responsibility simply saying it was his insured's word versus my clients.
Given that I am not licensed to litigate in Maryland, I quickly referred the claim to a heavy hitter in Maryland and instructed him to immediately file suit and subpoena the police officer and the responding EMT'S to preserve their testimony for trial.
The new attorney made arrangements with the client to meet at the scene of the accident where he would obtain photographs should they be needed for future litigation.
The whole scenario seemed ridiculous to me, but I had to act aggressively on this as it was in the best interest of my client.
Motorcycle Accident Resolution
Then out of the blue, and this is the good part, the other driver and her husband must have decided to do the right thing, something that virtually never happens, and they called their insurance company to tell them that she did in fact go through the red light, and admitted complete fault for the accident.
I believe this may have been the first time after handling well over 2000+ motorcycle accidents that someone actually told their own insurance company that they were at fault after initially denying it. Needless to say, the only person happier than me was my client!
If you have any questions regarding motorcycle accident injuries in New Jersey or Pennsylvania, please feel free to contact motorcycle personal injury lawyer Lee D. Gaber, the "Cycle Attorney" by calling 1-888-292-5352 (1-888-CYCLE-LAW ) 24/7, 365 days a year.