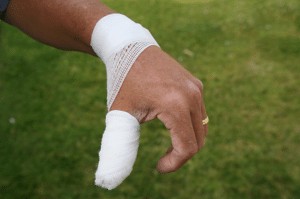 Picture this: you are riding your bike on a sunny afternoon when suddenly you are T-boned by a teenager on her mobile phone going through an intersection.
Your leg is shattered in several places, you've taken a hard hit on your head, luckily you were wearing a helmet. You are rushed to the hospital where you undergo emergency surgery, and are told in the recovery room that you will have to stay off your leg for 3 months.
You only have 7 days of vacation days accumulated. With your savings depleted you are wondering how you are going to pay your bills.
To top things off, some insurance company rep is already in your face offering you $20,000 to settle, but only if you will sign today!
You are angry one minute, confused the next, and all you want to do is sleep.
You May Not Be in Any Condition to Even Think Straight
When you are involved in a motorcycle accident it can really put you out of sorts, emotionally. I see this on a daily basis, and it is definitely detrimental to thinking clearly – making it nearly impossible to settle a claim yourself.
Hiring a New Jersey motorcycle accident lawyer to represent your best interests at a time when your nerves are frazzled can ease your burden. After an accident you need to think clearly to negotiate with an insurance professional, who is trained to take advantage of these situations.
Everyone reacts to injury accidents differently. Some people are able to calm themselves quickly while others may take months or more. It varies based on personality type, severity of injuries, and circumstances in your life beyond the accident.
Fear, anger, confusion and resentment are natural and certainly justified when the negligence of another disrupts your life. First, I want you to know that I understand. Secondly, know that I will never judge you for the emotions that come out, or for what you might say in this stressful period.
I am here to be your advocate, and will even share some of your emotions. However, it is my job to be the calm voice of reason and a source of serenity for you. I will take the stress off of you by calmly walking you through the items that need to be addressed, and talking to the insurance company on your behalf.
Accident Lawyers Alleviate The Stress of the Experience
It is vital to not let tension affect the negotiations with insurance companies. To a large degree, they count on this because it leads to hasty decisions.
This is why you hire me as your NJ motorcycle accident lawyer: Your emotions may be running high and could affect your negotiation with an insurance company; mine will not.
For some time after an accident, you may find it hard to relax. I will carefully listen to your concerns and empathize with your situation, but I also have the luxury of separation from the intense emotion of the accident and aftermath. It's all about perspective.
In our communications with each other, I will always be cognizant of the stress you are going through and will not push you beyond your capabilities to handle the situation. You can take your time and relay information about your accident to me at your own pace.
So what is your best course of action?
I'm biased of course, but you will find that working with me, New Jersey motorcycle lawyer Lee D. Gaber, eases your tension almost immediately and lets you rest and recover while I go and investigate your accident.
To start the process of getting your life back together, call me at 1-888-292-5352 (888-Cycle-law) and we'll discuss your case in a no-obligation, no-pressure fashion.
Once you are comfortable that I am the one you want to work with, we'll get started on resolution of your claim.