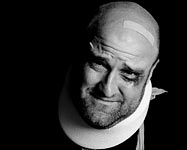 Unfortunately, when you are involved in a serious motorcycle accident, getting the easily quantifiable damages you may be owed is often only the beginning of your dealings with your insurance company, the legal system and your NJ motorcycle accidents attorney. Lost wages, medical bills, property damage and other out of pocket losses stemming from the accident are know as "special damages."
In addition to special damages there is a second form of compensation to which you may be entitled
Known as "general damages," this second group includes such subjective and hard to quantify concepts as pain and suffering, loss of consortium, and loss of enjoyment of life. You can probably tell just from reading their names how much tougher it would be to determine a monetary award for these damages. How much is "loss of enjoyment," worth? What does it even mean, really?
In my years as a New Jersey motorcycle accident attorney, I have handled dozens of cases involving general damages, and I thought it might be useful to examine what these terms mean, and how they might factor into motorcycle crash cases.
5 types of general damages
While defining and assigning economic value to specific damages is fairly straightforward, general damages tend to be much more difficult to nail down, especially if you are not a motorcycle accidents attorney.
Pain and suffering – Damages include compensation for physical pain suffered as a direct result of injuries, and emotional distress. Emotional distress is defined as the frustration, fear, and anger associated with suffering from a debilitating injury, or related surgery or medical treatment. The use of sedatives and painkillers may be submitted as evidence by your motorcycle injury attorney in a pain and suffering claim.
Loss of consortium – The spouse of a motorcycle accident injury victim can be awarded damages for the loss of the emotional and intangible elements of marriage, such as loss of affection, solace, comfort, companionship, society, assistance, and sexual relations. Children of the injured or dead can also recover the damages for the past and future losses of their lost parent.
Loss of enjoyment of life – Damages for loss of enjoyment of life typically stem from the plaintiff's inability to live a normal life as a result of the accident. For example the deprivation of the senses, or the impairment of that person's ability perform functions that were or would have been a part of their lifestyle had no accident occurred. Brain damage, paralysis, and severe burns are examples of these types of injuries, all of which are relatively common in motorcycle accidents.
Permanent disability and disfigurement – If a person is left with a permanent disability or a disfigurement after an accident, they may be entitled to additional compensation. This award may be based in part on the loss of the ability to earn wages, for example if an extremity is lost.
Mental anguish – A jury can award damages to the plaintiff if the plaintiff's NJ motorcycle accidents attorney can demonstrate that the accident itself, or the physical injuries related to the accident, led to depression or other acute mental anguish. The plaintiff must demonstrate that the mental anguish was so severe, and of such duration, that it substantially disrupted their daily routine, including the ability to work and earn wages.
Because general damages can be so difficult to quantify, the burden of proof in cases involving them is high. You must be able to show by a preponderance of the evidence that you have suffered these injuries, and that they have caused the deleterious long-term effects you claim. To meet this burden of proof your NJ motorcycle accidents attorney may solicit expert testimony from medical professionals, economists, mental health experts, and others.
If you have further questions regarding special or general damages, feel free to call Pennsylvania and New Jersey motorcycle accident lawyer Lee D. Gaber, Esq., at 1-888-292-5352 for a free consultation.