Just when we thought it was safe to ride again, another cause of motorcycle accidents!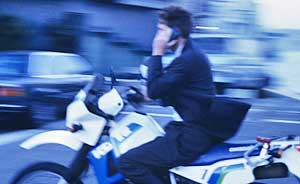 Several years ago in New Jersey David K. was riding his motorcycle with his wife as a passenger.  As he approached a bend, in Whitehall Township, they were struck by another driver who was operating a pick up truck and had come across the double yellow line.
The impact was so severe that the collision severely altered the rest of their lives. Thankfully, they were fortunate enough to have survived the motorcycle crash.
Although I personally was not the motorcycle accident attorney in this case, it is my understanding that they were well represented by a skilled New Jersey motorcycle accident attorney. The driver of the vehicle later pled guilty to using a cell phone while driving and failing to maintain a lane.
I'm writing about this because just as I had previously written about drunk driving, we are now faced with what may be an even more dangerous problem that causes many car and motorcycle accidents – driving while "texting".
During the course of their representation for the motorcycle accident, it came out that the driver of the car admitted that he was texting.
As a result, charges were also brought against his girlfriend for texting him while he was driving. The case finally made its way to the Appellate Court where it was held that if it can be proven that a person knows that the individual they are texting is driving, then they may also be held liable for any damages caused.
After reading about this case I reiterated to my children, who are 15 and 17 and seem to be glued to their cell phones, the seriousness of tragedies such as this.
Though they may be sick of hearing me telling them about motorcycle accidents that are caused by people texting on their cell phones, I am going to continue to put these articles in front of them and continue to lecture them.  Who knows, if I do it enough, it may begin to sink in.
Bottom line – don't text and drive.
My prayers go out to the injured motorcyclists, and the teenagers who learned a hard lesson in this New Jersey motorcycle accident.
I hope you find this information useful. Follow this link for motorcycle lawyer questions, If you have been involved in an injury accident in New Jersey, or PA, I can always be reached 24/7 at 1-888-292-5352 (1-888-CYCLE-LAW). Consultations are always free of charge.
Sincerely,
LEE D. GABER, Esquire
The one and only "Cycle Attorney"