Conducts A UI/UIM Thought Experiment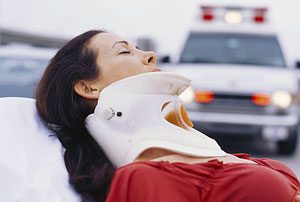 This is a frightening, true story that happened to clients of mine. It illustrates a lesson I've been hammering on for a long time, along with many other PA and NJ motorcycle crash attorneys: the importance of purchasing adequate Uninsured/Underinsured Motorist (UI/UIM) coverage for your motorcycle.
To help you truly internalize this idea, I'd like you to actually put yourself in my clients' shoes, imagine what it would be like to experience what I'm about to describe. As a compassionate, experienced NJ motorcycle accident attorney who also rides, I believe everyone who rides a bike in these states needs to take this lesson to heart.
A motorcycle crash attorney's UIM scenario
So, you live in New Jersey. You are on the back of your boyfriend's motorcycle when a driver in a car runs directly into the back of the bike. Both of you fly off the bike and onto the pavement, where the two of you briefly pass out. You awaken confused and in pain. You can move your feet and toes; both arms are still attached and appear to be functioning.
You look over to see your boyfriend staggering around the crash site, even though bystanders are telling him to lay back down. You don't know exactly what happened, but you sort of remember sitting on the motorcycle simply looking around, enjoying the scenery. The last thing you remember is a terrifying jolt from behind, then waking up on the ground. You try to get up, but are told by witnesses to stay on the ground, that the EMTs and police are on their way.
Thank God you had your helmet on!
You are grateful to be alive and begin to assess the situation. You can see the bike on its side slightly down the road, you think to yourself, "at least the bike is insured," and are grateful to have health insurance, and underinsured motorist coverage in case the jerk that hit you doesn't have enough coverage to cover you and your boyfriend's injuries.
UIM coverage prevented this accident from becoming a complete disaster for my clients
Both my clients were eventually taken to the hospital. She had a comminuted clavicle fracture amongst other typical motorcycle injuries. Fortunately, there was good UIM coverage on the bike, because the person who hit them only carried the NJ minimum coverage of $15,000.00 in liability insurance. It was also fortunate that both my clients had health insurance, because there were no medical benefits on the motorcycle policy.
However, the passenger on the motorcycle had only the minimum required coverage on her NJ registered/insured vehicle and therefore the $15,000.00 of UIM benefits she had "set off" against the other insurance company. Additionally, because she was not a spouse, resident family member nor a named insured on the policy, the UIM insurance on the motorcycle stepped down for her to the state minimum of $15,000.00 mandated by New Jersey law.
There was no claim to be made against the operator of the bike, who did nothing wrong.
Bottom line – despite the severity of her injuries and the associated needs for a motorcycle injury lawyer to recover medical bills, or a motorcycle injury attorney for a pain and suffering claim, etc., she was stuck with a total recovery of just $15,000.00 from the policy of the driver of the vehicle that struck them.
Could this have been prevented? Yes. If she had purchased underinsured motorist coverage on her personal automobile policy, as competent NJ motorcycle crash attorneys have been recommending, in an amount higher than the $15,000.00 required by the state, we could have presented a claim against that policy even though she was on a motorcycle.
As always, if upon reading this material you have any questions regarding UI/UIM or any other topic, call experienced Pennsylvania and New Jersey motorcycle accident lawyer Lee D. Gaber right at 1-888-292-5352 (1-888-CYCLE-LAW) to schedule your free consultation.