Today I am going to give you a glimpse into a little known benefit of hiring a New Jersey motorcycle accident lawyer, that without being represented, you would not have.
If a motorcycle lawsuit becomes necessary, a process known as "discovery" allows us to see what defense the insurance company is planning to use.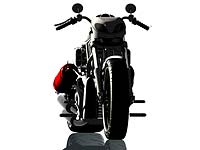 When you are injured as the result of a motorcycle accident and you are not being treated fairly by the insurance company, if you hire my firm to represent you I will investigate your claim with the intention of settling it out of court.
However, there are times when filing a motorcycle lawsuit is required to force fair compensation. My staff and I will investigate your accident, and put together the many elements that go into building your case. During the discovery process both sides are given the ability to question the parties involved through written and oral questioning.
This entire process is considered "discovery" and takes place in every motorcycle lawsuit. The questions are required to be about the facts, the circumstances surrounding the collision, any intervening events and the losses suffered by the injured motorcyclist.
The law requires that these questions be answered, and there is no limit on the number of motorcycle lawsuit interrogatories, although they must not be so numerous as to create a nuisance.
What were the Factors that caused the Motorcycle Accident?
In motorcycle accident cases the motorcycle accident attorney has to consider various types of arguments in order to prove that the other party was at fault and that you deserve to be adequately compensated.
Was the party at fault driving too fast, driving carelessly, or perhaps failed to stop at a posted stop sign?
Each case is different and the interrogatories and depositions often become an important part of building a winning claim.
Preparing for Your New Jersey Motorcycle Accident Case
By participating in the discovery process, the legal process is made more efficient because the attorneys will not have to prepare for issues that will not come up in the proceedings. To get the best results in your case, contact expert Pennsylvania and New Jersey motorcycle accident attorney Lee D. Gaber, Esquire at 1-888-292-5352 (888-CYCLE-LAW).
Best of all you won't pay anything until I obtain a settlement for you.
I will use my knowledge from my many years of handling motorcycle claims similar to yours to obtain a successful outcome for you. I will take the time to listen to you, and your consultation will be completely free of charge.