6 Steps to Help You Get the Most Favorable Settlement Possible
While I write regularly about insurance issues, it's been awhile since we've dealt with the nuts and bolts that will help solidify your claim. I wanted to discuss this issue today because I was reminded in recent conversations with clients that often they call a New Jersey motorcycle accident lawyer because they are frustrated with the process itself–not just because they want to sue someone, or get a huge settlement.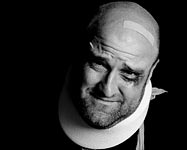 These are folks just like you who are in a difficult situation and are unsure or confused about who is responsible for what, and how to navigate the insurance company minefield. And sometimes they just need someone to whom they can vent. I consider this to be one of the most important services I offer.
What to do after your accident
After your motorcycle accident, one of the first steps you'll take is to file an insurance claim. How thorough you are and the type and amount of information you collect for this claim will have a direct bearing on how large your eventual settlement will be.
First, assuming you are not incapacitated, make sure to get photos of the accident and the site. I'm assuming also that you have a camera on your phone and that your phone survives the accident sufficiently to take pictures. Back these up as soon as possible and be sure to hold onto them for use by your motorcycle accident law firm.
If you believe you've suffered a personal injury, be sure to visit emergency room. Even if you have no obvious broken bones or severe road rash, you should be checked out because some injuries are not obvious immediately to someone who is not a medical professional. These injuries can develop over time and can cause just as many long term problems. The sooner they are discovered after your accident the easier it will be to demonstrate that the injuries are linked to the accident.
Make sure you get a copy of the police report, and of any tickets issued that will establish that you are not liable in the accident.
Keep copies of your medical records, especially if you require continuing treatment. It would also be a good idea to keep records and receipts for time and money spent traveling to and from medical facilities.
Documentation regarding lost wages, such as paycheck stubs, etc. from missing work due to injuries sustained during the accident are also key. Your mortgage or rent, car payments, utility bills, and other expenses don't stop coming in just because you've been injured. Good and thorough record-keeping on your part will improve your chances of recovering lost pay and helping you stay on top of your bills.
Finally, if your bike was damaged in the accident, take it to someone you trust for the repairs, and make sure you keep record of everything they work on. If you go to a mechanic or body man that your insurance company has certified, I would recommend taking it to a second shop to verify that the repairs are solid.
As you can see, the common denominator in every one of these steps is keeping good records.
It is impossible for NJ motorcycle lawyers to overstate how much thorough record keeping can help our position in negotiating your settlement with the insurance company. It can literally make or break your case.
Working with an experienced New Jersey motorcycle accident lawyer should set your mind at ease regarding this complex and sometimes confusing and stressful process. Contact Lee Gaber, Esquire now at 1-888-292-5352, for more information.