Motorcycle Injury Attorney Advice for Your Big Adventure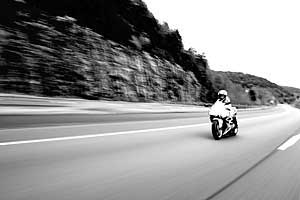 We're still deep in the bowels of winter here on the east coast, but that doesn't mean it's too early to start dreaming of that summer, Easy Rider style road trip. I know I am. As a motorcycle attorney who loves to ride, I start to get fired up about my summer road trips early. You might say I'm born to be wild.
Late winter is probably the perfect time to start planning. Unlike regular road trips where you can pretty much just toss a bunch of clothes into a suitcase, jump in the car and go, a motorcycle road trip takes a bit more planning. As you probably know, it pretty much boils down to this: motorcycles have far fewer storage options, so you have to be a little choosy about what you take with you, and think about how you're going to haul it.
And as rewarding as a long tour can be, there are unique hazards to hitting the open road. Let's take a look at some of them and figure out how to eliminate them so you won't need the services of a New Jersey motorcycle injury attorney like me.
Get Your Motor Running – What to do Before the Trip
Give your bike a checkup. Make sure that your tires, oil, lights, brakes,  fluids, etc. are good to go. You won't want to be dealing with any of these items once you're on the road. Plus these items are simply cheaper and easier to replace at home.
Plan Ahead
Make a rough daily "Flight Plan." If you have a destination in mind, a rough idea of where you need to be at the end of every day will keep you on track and prevent you from wasting valuable vacation time. Share the plan with friends or relatives, especially if you'll be riding in a remote area.
Make your emergency contact and medical information easily visible. I hate to be that guy: the one who focuses on the possible downside/danger of your road trip, but hey – that's what motorcycle accident lawyers do.
Property damage is the least of the potential problems you could encounter if you have an accident. Responders will need to know if you have medical conditions, prescriptions and allergies, and who to call. The best way I have seen to deal with this is a small pouch that sticks to the outside of your helmet, and includes a form that you fill out with the relevant information.
Packing
Some time upfront planning out your packing can help you pack lightly now and on your next trip as well.
Create an inventory list. For every item on that list, ask yourself if you didn't take it, and found that you did need it, could you easily buy a replacement on the road without breaking the bank. If yes, take it off the list. For every trip you take, remove the items you don't use and don't bring it next time.
Get a comfortable, waterproof, motorcycle riding suit. On a long trip, you'll get cold and wet. It's no fun, and it's unsafe because it's hard to concentrate when you're soaked to the bone. A riding suit helps with this. Plus they look cool.
Pack a tank bag. Sun screen, skin lotions, eye cleaner, eye lubricant, a flashlight, a tire gauge, maps and other essentials should all be kept in a handy location.
Carry a spare key. Hide it somewhere on your bike with a zip-tie or duct tape.
Pack extra bungees, zip-ties or para cords. These items are extremely versatile and handy for all types of on-the-road uses.
Head Out On the Highway Make Every Moment of Every Day Safe and Rewarding
Start early, finish early. Try to be on the road by 8AM, so you can get a good day' in by the time you shut down, which should be by dusk. After dark you're more likely to have animals on the road, and visibility gets worse.
Hydrate. Dehydration, even in its early stages, induces fatigue – obviously a disaster waiting to happen on a long tour. Plan ahead and bring bottled water with you.
Eat smart. Have a reasonable breakfast that won't induce a food coma. Take it easy on the heavy carbs like pancakes or potatoes. Have a light lunch, and healthy, energy-rich daytime snacks like fruit, granola or yogurt. Splurge on your real meal at dinner time. You're off the bike and you've got a couple of hours to take a walk or go for a swim at the hotel.
Inspect your bike carefully every morning before you ride. Checking the simple stuff – air pressure, oil level, loose or missing fasteners – can save you from big trouble.
Carry a flat repair kit and know how to use it. Practice at home on an old tire so you are not trying to figure the process out on the side of the road. Tube-type tires are more of a hassle, but once you learn how to patch a tube, it's faster and cheaper than a tow.
Get gas before you need it. You only have to run out of gas one time, or take a five mile detour in search of gas to blow the time you saved by not stopping. If you have less than a half tank of gas, why not stop, fill-up and take care of any other business you need to handle (use restroom, put on riding suit, etc.).
Be careful on those beautiful back roads. You'll hit crappy pavement, gravel, concrete and other hazards. Be aware of tall, roadside vegetation and unmarked intersections.
If you're planning a long road trip, don't hit the road without contacting motorcycle accident attorney Lee D. Gaber, Esq. at 1-888-292-5352 (888-cycle-law) with your questions.
Consultations in New Jersey and Pennsylvania are totally free.