Whether you're on a day trip through the Delaware Valley, or headed out to Wildwood for the Roar to the Shore, the best way to experience New Jersey is on a bike.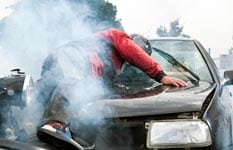 But hitting the open road on a motorcycle, no matter how exciting, does carry some risk. As a motorcycle accident attorney, and as a biker myself, I've seen (and experienced) how tough it is for cars to share the road with us, and how that difficulty can lead to increased chances of a motorcycle vs car accident.
Statistics from the National Highway Transportation Safety Administration (NHTSA) indicate that in 2011 (the latest year for which we have good data), motorcyclists were 30 times more likely to die in an accident than occupants of a car. There are obviously a lot of reasons for this, the most important probably being head injuries.
The best way to stay alive on your bike is to be wearing a helmet.
If you get in a crash, the Federal Government estimates your chances of survival improve by 37% if you're wearing a helmet. And even if you survive, you're 3 times as likely to sustain a traumatic brain injury if you're not wearing a helmet. The NHTSA estimates that if everyone involved in motorcycle accidents in 2011 had been wearing a helmet 703 additional lives could have been saved.
Another surprising way you can reduce your accident risk is to make sure your bike has an Antilock Brake System (ABS). ABS prevents your wheels from locking, which can prevent a skid, which can be fatal in a motorcycle vs car accident.
Statistics don't lie in this case: the Highway Loss Data Institute (HLDI) found in their 2013 study that ABS reduces your chances of being in a fatal crash by 31% when compared to the same model bikes without ABS.
Here in New Jersey, in 2011, the NHTSA found that there were 93 fatal motorcycle accidents compared to only 70 in 2010. One surprising reason for this increase seems to be the warmer winter months, as a large percentage of this increase came in the first quarter, when temperatures were unseasonably mild, and more New Jersey bikers were on the road than is typical for this time of year.
Interesting tidbits tucked in among all the motorcycle vs car accident statistics from the last couple of years:
Once again riders over 40 saw a big increase in fatalities in 2011 with 2,565 deaths nationwide.
Alcohol often plays a part in motorcycle crash fatalities. 20% of drivers involved in deadly crashes had a blood alcohol content of .08 or higher.
More than 20% of riders involved with fatal crashes in 2011 were riding with invalid licenses when the accident happened.
Don't let all these scary statistics keep you from enjoying the highways and byways of our beautiful state.
The take away is that there are a few pretty simple things you can do to make sure your bike trip is as safe as possible.
Wear a helmet
Ride sober
Be aware of your surroundings and share the road
Look into an Antilock Brake System for your bike
For additional bike safety information, or if you or a loved one has been involved in a motorcycle accident in NJ or PA, don't hesitate to call Lee D. Gaber, Esquire, the "Cycle Attorney." 1-888-292-5352 (1-888-CYCLE-LAW) 24/7