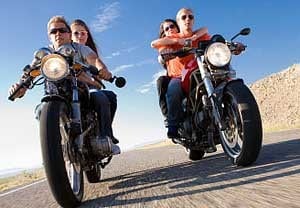 There is a certain stereotype held by many in the general, non-motorcycle-riding-public that bikers are just a bunch of bad guys, scofflaws and toughs.
It's true that our black leathers, boots, denim jackets and tattoos can create quite a first impression, as a New Jersey attorney who serves the motorcycle community, I know that this stereotype overlooks one of the most important qualities of our community.
We are uncommonly giving.
In fact, you may be surprised to learn that several surveys conducted over the last few years indicate that as a community, bikers give more in charitable donations than most other comparable groups.
I've been a New Jersey motorcycle accident attorney for a long time now, and this fact has always made me incredibly proud.
We know how to make giving fun.
As many of you know from experience, the best way to make giving back to our community fun is to head out to one of the many charity rallies and rides that take place throughout the Garden State.
So, as I do most years around this time, I want to call your attention to a few of the most exciting and worthwhile annual spring events.
Freedom Run and Festival – May. Overpeck Park, Ridgefield Park, NJ; Sponsored by the 200 Club of Bergen County, proceeds support Bergen County law enforcement and EMS personnel and their families in the event of serious injury or death in the line of duty. Great vendors, music and food available on this police-escorted ride.
Puppy Rescue Mission Ride: Soldiers Saving Puppies… Puppies Saving Soldiers – June. Garden State Harley Davidson, Morris Plains NJ: Meet the Dogs of War! Activities include food, music, raffles, silent auctions and more benefitting the Soldiers' Battle Buddies.
Blessing of the Bikers – June. Phillipsburg Alliance Church; Phillipsburg NJ: Activities include a bike show, with awards, a scenic ride through Warren County, along with raffles, food and music. Proceeds benefit Celebrate Recovery, a 12-step recovery program focused on "drugs, alcohol, hurts and hangups." This is a good one if faith is an important part of your riding life.
Hired Guns Gathering of the Guns for Wounded Warriors – June. Hired Guns Motorcycle Club HQ, 109 East 24th St., Bayonne: Your donation gets you cold beer, live bands, great vendors, food trucks, shot girls, event swag, police pipe and drum Military tribute. Proceeds will be donated to Wounded Warriors. This unique motorcycle club is made up exclusively of law enforcement personnel.
Finally I wanted to wrap up with one non-charity event. This is down the line still, but it's a big, multi-day rally, so you may want to start your planning for it now.
The well-known annual Roar to the Shore Bike Rally in Wildwood is always a blast, and it's always free.This year's rally takes place each September, and basically encompasses the entire town. There are TONS of events, and it's close enough to most of New Jersey's major metropolitan areas that you can get there via scenic ride, and don't need to trailer your bikes.
A Chance for this NJ Motorcycle Attorney to Give Back to the Community
Any and all of these events will be a great time, and a great excuse to get some sun in your face and wind in your hair. I get a great excuse to get out to meet and mingle with my clients, while knowing all the while that I'm pitching in to make a difference for someone in our community.
Remember before heading out to any of these great events that you need to double check that your insurance is up to date. You may want to check out my post on road trip tips to make sure your gear is up to speed before you hit the road, and finally, make sure you're not riding drunk.  
If you have any other questions about upcoming rallies and events, or about motorcycle law in general, contact New Jersey's favorite motorcycle accident attorney, Lee D Gaber, Esq. at 1-888-292-5352 (888-cycle-law). Your consultation is free.