Of the many reasons that I remain passionate even after all these years as a New Jersey motorcycle accident attorney, among the most important involves the concept of Loss of Consortium in New Jersey cycle claims.
When a spouse or family member is injured in a motorcycle accident, their lives are often permanently altered, and I consider it to be one of the most important areas of my job to help those left behind make as complete a recovery as possible with regards to their lifestyle and emotional health.
In a column several months ago on a different topic, I briefly touched on the definition of this idea in the course of writing about general damages, but wanted to return to it again to further explore why this complicated idea is so important in cycle claims.
Pursuing Damages in NJ Cycle Claims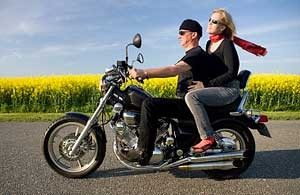 First of all, let's establish a short, legal definition of the term. Loss of Consortium refers to the loss of the services of one's spouse as a result of the injurious actions of a third party. It is one type of potentially available general damages that also include pain and suffering, mental anguish, and permanent disability or disfigurement.
Historically, the term literally meant services, ie. household chores and such. In contemporary usage, the definition has expanded to include such less tangible damages as emotional distress resulting from loss of affection, companionship, and even so-called "marital relations," (yes, I'm referring to sex).
Loss of Consortium is not recognized everywhere, but where it is recognized, it has largely been reserved for the spouses of the injured. Recently however, some courts have assessed cases involving unmarried plaintiffs, including children or parents. There are some indications that those in long-term relationships or same-sex relationships may eventually win the right to claim these damages as well.
Should We Include Lost Consortium in Your Cycle Claim?
If your husband or wife has been injured in an accident, and you make the smart decision to work with a NJ motorcycle accident lawyer to file a cycle claim, the question we must answer together is whether or not it is worth it to pursue Lost Consortium damages.
Here are some of the factors we'll need to consider while making this decision:
Was your spouse at fault? Lost Consortium is only available to those plaintiffs whose spouses were injured or killed through no fault of their own. If there is any doubt regarding the answer to this question, it may not be worth going through the emotionally draining process required to establish your claim.
What was or is the state of your marriage? To be successful, you may be forced to answer seemingly intrusive questions regarding some of the most physically and emotionally intimate aspects of your married life. If your marriage is not on totally solid ground, this will probably be exposed, even if there have been no legal actions, court filings or separations.
If you've been to a marriage counselor or spoken with your priest or clergy about any marital issues, this will all be fair game, and if it so happens that your marriage is shaky, this will harm your chances of winning damages.
Other family issues relating to parenting, such as abuse or neglect allegations, may be dredged up during this process as well.
Are you or your spouse reluctant to testify? Let's say for the sake of argument that you have a great relationship. Even so, if you or your husband or wife are reluctant to testify, in the unlikely event that we take your case to court (I feel my clients are usually better served if an out of court settlement can be reached), it will not present well to a jury.
So if you are not willing to answer the intimate questions I referred to above, we will probably not pursue this course of action. And let me tell you, the questions I'll need to ask you to help us make this decision may even seem intrusive, yet will not be nearly as aggressive and intrusive as those an opposing attorney might ask you.
What does the defendant's liability policy cover? Most liability policies are written to include Loss of Consortium within the "single injury," limitation. This caps the amount covered by the insurance company per accident.
To determine whether or not this is the case in your case, we'll need to get ahold of the applicable policy. If the negotiable settlement amount for your injured family member is under the policy cap, Loss of Consortium can help get you to the full limit. Keep in mind that unless the defendant is wealthy, you likely will not recover more compensation than the policy allows.
I know that this seems like a terribly complex process, and after reading this short explanation, if a family member or spouse has been seriously injured or killed in a New Jersey motorcycle accident, don't let it stop you from asking more questions.
Call New Jersey motorcycle accident attorney Lee D. Gaber at 1-888-292-5352 (1-888-CYCLE-LAW) for answers. Your consultation is free.