The time after a motorcycle accident can be unsettling and filled with apprehension about what is going to happen next. NJ motorcycle accident claims involve making many decisions as your case proceeds.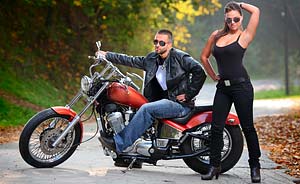 One of these important decisions I will help you with is whether to take your NJ motorcycle accident claims case to trial.
A motorcycle accident lawsuit may sound like too big of a deal to handle, and something that prevents you from standing up for your rights when you have been injured in a motorcycle accident.
Some clients worry prematurely about the decision to "sue", because they are nervous about the idea of testifying in court in front of a judge and jury. You should never let this stop you from consulting a motorcycle accident attorney. NJ motorcycle accident claims rarely end up in court, and you have the final say as to how far to take them.
Almost All Cases are Resolved through Negotiation
The good news is that in most cases never go to trial. As your New Jersey motorcycle accident lawyer, I begin immediately preparing your case and compiling all the information necessary for a compelling settlement argument.
I can negotiate effectively with the insurance companies to resolve your case because of my years of experience in case preparation. When the work has been put in to show how you were injured through the fault of the other party, the representatives of the insurance companies will see that going to trial is not something that they want to spend time and money doing.
Is there Pressure to Appear in Court?
No pressure is ever put on you to take your case in a direction you don't want to go. My goal is always to avoid a trial because if your case can be resolved without going to court, that ends up being easier for everyone involved.
We will consult together every step of the way, and I will be sure that you are happy with any decisions we make about how to proceed. I will lay out all the options for you, and give you all the information you need in order feel comfortable.
Call 1-888-292-5352 (1-888-CYCLE-LAW) today to reach New Jersey motorcycle accident attorney Lee D. Gaber, Esquire. All consultations are free with no obligation so you can discuss your case without stress or worry.