Whenever spring peeks around the corner and bike season begins to heat up, I make sure to complete two important tasks.
First, as a rider, I check to make sure my insurance is up to date.
Second, as a New Jersey motorcycle accident lawyer, I remind my clients and readers of the necessity of equal amounts of uninsured motorist (UM) and underinsured motorist (UIM) coverage.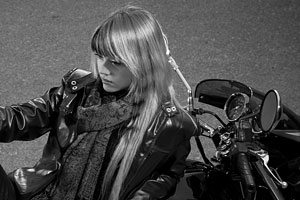 When I hit the road, my goal is pure enjoyment.
I don't want to be worried or distracted by the possibility that if I have to make a NJ motorcycle accident claim I could be left vulnerable to both the immediate physical after effects of an accident, and to longer term financial risks due to somebody else's lousy insurance.
Update Your UM / UIM Coverage for Spring
As tempting as it is to just take your bike out of storage and hit the road, there are significant benefits to seeing that you're covered.
Importance of Uninsured & Underinsured Motorist Coverage
In the unfortunate event that you're involved in an accident, there's a very good chance that a big chunk of the settlement money will come from your own UM / UIM coverage.
According to the Insurance Research Council (IRC), almost 15% of New Jersey drivers are uninsured.
That presents a huge risk for you as a rider, because drivers who are uninsured also tend to be less responsible in other aspects of driving as well.
If a driver can't, or won't be bothered to get insured, there's no guarantee they're following any of the other rules of the road; taking common sense safety precautions like not texting and driving, or observing the common courtesy of simply sharing the road safely with bikers.
So, if uninsured (or more likely underinsured) drivers are numerous, and also potentially more likely to be involved in an accident, the importance of you having adequate UM / UIM insurance becomes self-evident.
Hire an Experienced Motorcycle Accident Attorney to Handle Your Motorcycle Accident Claim
If you are involved in an accident, you don't necessarily have to go to court, or 'sue,' anyone.
More bikers than you would think neglect to consult an attorney after an accident because they have the mistaken idea that hiring a lawyer will make it more likely they'll end up in court.
Whether this is because the idea of a full-fledged lawsuit is simply overwhelming, or because they don't want to be called upon to testify, they just accept what their insurance company says they are entitled to.
What many bikers don't realize is that the insurance companies are not looking out for your best interests. They have their own priorities that will take precedence over your needs.
So if you are involved in a crash, you should never be shy about standing up for your rights, even if it seems daunting.
Most of the time motorcycle accident claims end up being negotiated with the insurance company rather than going to court. Of course the final decision in how far to take your accident claim is totally in your court (so to speak), and I'll never pressure you to appear in court if you don't want to.
Negotiating Fiercely with Insurance Companies Is One of My Specialties
Decades of experience in case preparation, and my dedication to fighting for biker's rights, has honed my skills to a fine point, usually allowing us to resolve your claim before it turns into a lawsuit.
Out-of-court resolutions are easier and less stressful for everyone involved, so my goal is to help you get the motorcycle accident settlement you deserve without going to court.
---
Now, with all this unpleasant insurance talk out of the way, hop on that bike and have a great first spring ride, knowing you're fully covered and prepared!
If you have any questions about NJ motorcycle accident claims, get in touch with New Jersey motorcycle accident lawyer Lee D. Gaber, Esquire, the one and only "Cycle Attorney" – call me at 888-292-5352 (888-cycle-law) for a free consultation.