What you need to know to pass your NJ motorcycle tests
As a long-time New Jersey motorcycle accident attorney and blogger, I have made it one of my missions to encourage my readers to get their licenses before they jump on their bikes.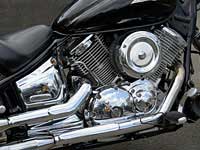 Licensed riders are less likely to be in accidents, more likely to survive those that they are in, and generally demonstrate a higher level of skill and knowledge than those riders who hit the road before they hit the books.
One of the requirements you must meet before you earn your license is that you pass through the NJ motorcycle test system. I say "system," because there is actually more than one required test.
In fact there are three:
a written knowledge test
a road test, and
a vision test
Running the NJ motorcycle test gauntlet
Before taking any of these, remember that if you are under the age of 18, you must complete the Motorcycle Safety Education Program Basic Course.
Let's get the most basic requirement out of the way first: your vision test.
In order to get your license, you must have 20/50 vision in at least one eye, with or without glasses or contacts. Each New Jersey Motor Vehicle Commission (MVC) facility where driver testing is offered also provides vision tests. If you pass the eye exam with glasses or contacts, you'll have a restriction noted on your license requiring you to wear corrective lenses whenever you ride.
Next up, you must pass a written knowledge test.
Prior to taking the road test, you must get at least 80% on a written skills test. That's 40 correct out of 50 questions, which cover basic rules of the road, DUI laws, driving in poor weather conditions, identification of drunk drivers, and more.
The best way to prepare for the test is to study the New Jersey Motorcycle Manual, which is available online. The test is typically taken on a computer at an MVC Driver Testing Center, and the results should be available immediately.
The test is available in a variety of languages, and can be taken orally in English and Spanish as well.
If you cannot take the test in your native language, you may be assisted by an approved interpreter.
After passing the Vision and Knowledge tests, you will be issued a permit. I covered how to get your motorcycle permit for NJ in a recent blog post, so follow the link to find out more about that process.
The road test is next.
Once you've successfully applied for and received your permit, and if you've turned 18, the next NJ motorcycle test is on road skills. Before taking this test however you must "practice ride," your bike for 6 months (if you're under 21), or 3 months (if you're older than 21).
Your permit is good for up to 90 days, so don't worry about it expiring.
After the permit practice riding period is over, head out to an MVC test site wearing a regulation helmet and eye protection, and riding your own registered and insured bike. The test covers fairly basic skills such as turning and stopping, weaving through a cones course, making a U-turn, and obstacle avoidance.
Remember, some of these maneuvers take place at low speed, and if you stall, you automatically fail. So even though it doesn't seem like as much fun, get some low-speed practice in before your exam.
Once you've passed all of your NJ motorcycle tests bring the required paperwork to an MVC licensing facility along with a licensing fee to get your license.
At this point you'll be on a probationary license for one year, during which you must observe these restrictions:
Display a reflector decal on both license plates (available at MVC facilities).
No driving after 11PM or before 5AM. There are some religious or employment exemptions.
Only parents, guardians, or dependants (your child, not your brother or sister) are allowed as passengers.
No phones, handheld video games, ipods, etc allowed.
Tempted to Ride Without a License?
I know that all these rules, studying, and testing sound like a real drag, and that the process seems to take forever.
It's super tempting to say "screw it, I'm not going to get caught anyway, so I'll just mount up and head out." And as a New Jersey motorcycle accident lawyer since 1991, I have run across – and even represented – a fair amount of riders who did just that. And let me tell you, it does not usually work out to their advantage.
The tests are no more challenging than a standard driver's license test, so don't let all the requirements intimidate you.
Call New Jersey motorcycle accident attorney Lee D. Gaber at 888-292-5352 (888-CYCLE-LAW) for more information about NJ motorcycle test rules.
Your consultation is free.