The Consequences of Riding Without Your Motorcycle Permit and NJ License
So, you want to be a biker. I understand these dark urges. As a New Jersey motorcycle accident lawyer with an absolute passion for the ride, I have also been drawn to the romance and rebellion of mounting up and hitting the road.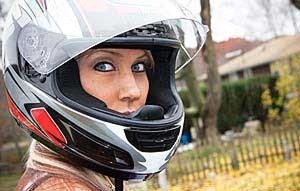 But, as one of a rare breed of personal injury lawyer who specializes in motorcycle claims, there is one question we need to answer before we get our motors running too hot here:
Do you have your motorcycle permit?
NJ law requires that before you receive your motorcycle license or endorsement, you pass a basic skills and safety test to earn a learner's permit, similar to the one you got before your driver's license.
Over the course of my 25-year career as a motorcycle attorney in New Jersey, I have seen the consequences when bikers who haven't made the time to secure their motorcycle licenses get into a scrape.
If that scrape involves property damage or personal injury, those consequences can be pretty severe.
According to state statutes 39:3-10, if you are caught riding without your license, you can be fined up to $500 and you can be sent to jail. In addition, these penalties are surchargeable.
That means the New Jersey Motor Vehicle Commission can tack an additional $100 onto any court fees and fines you incur for infractions occurring while you were riding without a valid license.
You are more likely to have a deadly crash if you are riding without a license
I hate to be the bearer of even more bad news, but here it is: several studies indicate that as a group, unlicensed bikers are much more likely than members of other groups to get into accidents.
So if you're unlicensed, you will not only face more severe consequences if you have a collision, but you are part of a group that's statistically more likely to get into that accident in the first place.
Plus, statistics show unlicensed drivers are 20 times more likely to die than a licensed rider would be. That's probably because unlicensed riders tend to be a bit younger and less experienced than average and so are more likely to take risks, such as speeding on rough pavement, riding without a helmet, and so forth.
It is theorized that this is a result of missing out on the skills and practice you would get while working to earn your motorcycle permit. NJ licensing regulations are set up to ensure that every biker is equipped with the skills to avoid these types of common spills.
How to get your motorcycle permit and NJ license
Now it's time for the good news. Getting your motorcycle license is probably easier and less time consuming than you assumed.
First let's address the basics. Your license is good for four years; you can get one when you are as young as 17 years old.
Are you younger than 18? You have to take the Motorcycle Safety Education Program Basic Rider Course.
First you need to get a motorcycle permit – NJ Motor Vehicle Commission (MVC) Agency offices distribute permit applications, which must be completed and returned along with your proof of identity (your current NJ driver's license if you have one). There is a low application fee.
Hit the books – Before presenting your motorcycle permit, NJ requires you to pass a basic knowledge test. Questions include rules and regulations, so study the Driver's Manual, and Motorcycle Manual. Then, go to your local Driving Testing Center within 90 days and present your permit. In the meantime, as long as you are not riding on a toll road, have no passengers, and ride during the daytime, you're free to hit the road.
Take the test – You can schedule the test online, and you have to complete it within 20 days of the date your permit was validated. If you took the Motorcycle Safety Education Program Basic Rider Course I referred to in step one, the road test is waived. If you are required to take it, you must take it on a registered and insured bike (so bring your paperwork), and you must be accompanied by a licensed rider.
Get your license – Once you've passed the written and road tests, you can simply go to any MVC office with your licensing fee, present your motorcycle permit, and a NJ license will be issued.
So that's it; you can get your license in just 5 easy steps!
But what if you have an accident before you receive your license?
You still have rights, and I have built my career as a New Jersey motorcycle accident lawyer by tenaciously defending those rights.
But if you don't have a valid license, it is going to be more difficult to demonstrate that the other party is at fault, no matter how obvious that fact may be.
The argument will be that a more experienced or responsible rider, who had received the education gained by going through the NJ motorcycle permit and licensing process, would have been better equipped to avoid the accident.
So my advice as one of New Jersey's most experienced lawyers specializing in motorcycle accidents is very simple: get your license.
For more information on how to get your motorcycle permit, NJ license, and to get to know me before you need me, call New Jersey motorcycle accident attorney Lee D. Gaber at 1-888-292-5352 (1-888-CYCLE-LAW).
You owe nothing until we win.